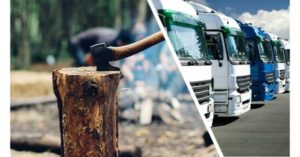 That sounds like an odd combination, and it is. Still I see this a lot, figuratively speaking of course. There are two variants. The first is chopping the wrong wood until your axe is blunt, because (re)organizing freigth is postponed or even forgotten at all. The second variant is procurement like wild chopping with a blunt axe, leading to a poor result and relationship.
Variant 1: Postponing to sharpen your axe
Freight is not the primary process for shippers. However, it is 100% essential for customer satisfaction and it can represent a serious cost component. Still, many shippers are spending much more attention effort and investment on their primary process without giving freigth the attention it deserves. There is always an excuse why 'now is not a good time' and 'freigth is arranged'. Yes it's arranged, but no one bothers to check if it's still arranged as well as it should be. Your company is changing, your client base is changing, your logistics service providers and their network changes and the transport market in general changes. No one is keeping an eye out for these gradual changes and most focus is placed on solving individual shipment problems. In short, people are so busy chopping with their axe on whatever is in front of their eyes, and no one takes time to sharpen the axe. As a result, most gains from on improving the primary process are partly lost in suboptimal logistics but no one notices the axe is not sharp anymore.
Variant 2: The blunt axe
There is a reason that many logistics service providers do not like tenders. Often they need to compete with a too large number of competitors, which makes them reconsider how much effort they want to spend on the shippers RFP, if the chance on success is low. They are also often forced to submit their rates in a prescribed Excel format which deviates from their own. Due to a lack of proper analysis tooling, this is the easy way out for procurement to comparing rate tables. The results is that this often eliminates the strengths in volume or region of the various service providers, in addition to the extra time the service providers need to spend to translate their tables to the prescribed format. And if the service providers do decide to spent their time and effort on a tender, they often don't receive proper feedback between rounds or when they are not selected. If they do get selected, there is a chance the procurement tries to squeeze out each percent they can. These practices scare off many good service providers, and are usually not a good base for a long term cooperation.
The problem and the solution
Both problems described above result from a lack of time and proper tools. Organising freigth properly costs time, but it always pays off in customer satisfaction, a seamless connection to your other operations and a healthy margin. To do it right, you need to follow the 10 steps below.
Identify what is really needed in terms of quality, service, shipment profile and your operations. Identify the 'must haves' and 'nice to haves'.

Perform a good preselection of a reasonable number of logistics service providers that match your needs.

Requestion quotations based on what is needed. Allow the bidders to use their own volume/postcode zones. Be transparent on how you will select the winning bidders.

Identify the differences in quality between the offers received.

Translate the received rate tables to (yearly) costs for your shipment profile. Use dedicated tender tools if needed.

Compare costs and quality and if needed make a short list for a next tender round

Provide detailed (and honest) feedback on quality and costs so the bidders know how to best improve their offer

Determine the optimal baseline allocation of your shipment profile over (a usually mix of) service providers. No one is good in everything. But make sure the business to allocate is worthwhile for the service providers.

Meet with the selected service providers before contract award to discuss expectations. If needed, arrange a couple of test shipments. Kiss before you marry.

Manage the operation as agreed, and agree beforehand on the process and frequency. Agree also how to implement improvements and deal with complaints. Monitor the allocation of individual shipments against your baseline.
Time is money, but not taking time to do things timely and properly can cost more money. If you want to remain effective, you need to take time to sharpen your axe. You don't need to do this all by yourself. For your book keeping there's accountants and also for procurement of freigth there are specialists with proper tooling and relevant and current knowledge of the market. Such specialists can unburden you and make sure your axe stays sharp while you can keep chopping.