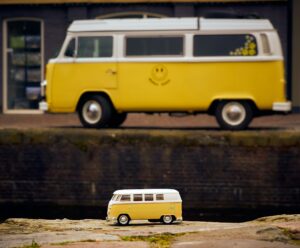 Over the years, Transinnovate has supported a wide range of shippers in procuring, organizing, and optimizing transportation. We have been active in many sectors, from metals to chemicals to pharmaceuticals to food. We have also supported companies ranging from SMEs with €100K in freight costs to multinationals with millions in transportation costs. It strikes us that large companies and small companies could learn a lot from each other. In this blog, we present some tips and are happy to share our knowledge and experience.
Requirements Package
Do you immediately put prenuptial agreements on the table, including KPIs and an exit strategy if it doesn't work out, after uttering your name on your first date? There is a good chance that your (dream) partner will leave right away. Yet, with large companies with elaborate processes, we often see such an approach: very thick tender documents that are sent out with an RFP/RFQ. These often contain many legal clauses and sometimes the smallest details. This can already discourage many (suitable) carriers and logistics service providers. Of course, a good contract is important, but that can come a little later in the process when there is a first click.
Conversely, would you get married without first testing whether you are compatible and setting some rules? With SMEs, there is sometimes hardly a good tender document, and rates are simply requested, and work is done based on trust. By asking "too little" or not formally recording this in a compliance list, there may be ambiguity in the operation and about things like (fuel) surcharges. We often see that rising fuel prices are passed on, but falling prices are not.
Our tip: ask for what you really need to find a carrier that suits you, no more and no less. The essence can often be within 10 pages. Small shippers can thus create clarity and record what is important. Large shippers prevent themselves from discouraging potentially interesting carriers by throwing thick documents over the wall, making them feel like 'a number.' This brings us directly to the next point, the relationship!
Relationship and Frequency
What is worse than laying down the prenuptial agreement at a date? Sending it by post beforehand and giving the impression that you have approached dozens of partners! Cost reduction is almost always on the agenda for multinationals. This leads to frequent tenders in which many parties are invited, and then to the info@ address without prior notice or any form of personal contact. Parties are quickly changed for small cost benefits, giving the word "tender" a negative connotation. Then there is complaining that so few offers are coming in, or that shipments are not being picked up in the operation. Extra costs that arise elsewhere in the operation or that lead to dissatisfied customers due to the wrong logistics partners are often not traced back to the source because they fall under different departments.
SMEs, on the other hand, often attach great importance to relationships and sometimes have been working with the same carrier for decades. Beautiful, of course, if it works and continues to fit. However, it remains a business transaction. The shipper changes, the carrier changes, the market changes. If a benchmark is carried out, it is often without proper market knowledge of suitable logistics service providers and usually only with a few parties. This quickly creates the impression that "it's all good" when it is not always the case. A strong dependence on one in-house carrier can also lead to a large dependence.
The goal of a procurement process is not necessarily to switch suppliers or choose solely based on (transport) price. The aim should be to establish a good and sustainable relationship with a limited number of (preferably more than one) carriers that fit your shipping profile, service level, and current market situation. Multinationals should invest more energy in selecting which parties to invite to a tender and prepare them through personal contact. This way, they will receive more and better fitting quotes. Small companies should periodically compare their existing relationships with relevant market parties. If they lack market knowledge, they can use transport procurement specialists.
Market Knowledge and Data
Both large and small shippers should keep their market knowledge up-to-date, especially between tenders. As with the rest of the supply chain, organizing transportation begins with continuous attention to what you need and who can deliver it at a market-competitive price. We notice that both multinationals and SMEs often struggle to access good data quickly. Either there is little data (SMEs, which often only have carriers' invoices), or it is scattered across many branches and systems (multinationals). Besides quality, good procurement starts with a good understanding of the shipping profile and current cost structure. For example, where is it useful to invite country/region specialists or volume specialists (packages, groupage, partial loads, and FTL/FCL)?
A Transport Management System can help obtain good data and more. Nowadays, there are low-threshold options for all types of companies to have all data available with the click of a button. Additionally, it is crucial that a TMS has specific transport functions that are often missing in standard ERP systems, such as consolidating shipments, managing surcharges, invoice verification, requesting spot rates, dock scheduling, printing labels, etc.
Join the Discussion!
Do you want to learn more about this? Do you have an opinion on this topic and want to discuss it with us? We are open to discussing developments in the logistics sector.